Chris's 30 Day Reboot Day 10
Day 10 of the 30 Day Reboot and Chris is fully invested. I love it. I don't know too many people that would be okay with popping open a box of salad greens and just eating them by the fistful (myself included).  Certainly beats the alternative of fast food while on the road.  Most people don't want to do veggie like this, and I can't say I blame them. Salads are better absorbed anyway when you can add some acid, like vinegar or lemon juice, and oil (Chris's go-to salad dressing), which is probably why salad dressing just makes sense for most of us. I love the fact that he used beet greens, I'm always shocked when people cut the beet greens off and discard them. These greens are incredibly nutrient dense. Beet greens are an excellent source of several important vitamins and minerals, including vitamin K, vitamin A (in the form of carotenoids), vitamin C, copper, potassium, manganese, vitamin B2, magnesium, vitamin E, calcium, iron, vitamins B1, B6, and pantothenic acid. You can use them in salads raw, or you can cook them just like you would spinach, kale or swiss chard. If I have beets on hand, I cook them, then store in the fridge to put in my green smoothies, which are now pretty red-colored smoothies thanks to the color in the beet stems. 
From Chris:
30 Day Diet Reboot Day 10
January 10, 2018, Weight 179.2, Body fat 11.6%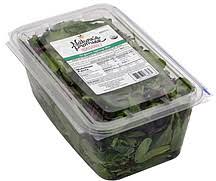 Today's topics:
Box-of-salad (fistfuls of salad!)
The awesomeness of Beet Greens
The inflection point
The steak of veggies
Even with the weird food choices and 12 hours of windshield time I'm right on track.  Got out for a run at lunch today along the Charles and I feel lighter.
Stopped at a grocery store before I drove back and grabbed some snacks for the ride yesterday.  Got some fruit, some nuts and some Kind Bars.  But, the big thing was one of those big boxes of salad greens.  I just sat it open on the passenger seat and ate fistfuls as I drove – browsing like a cow.
The salads I prepped for this week are awesome.  I used the greens from the beets I bought.  I also got a bunch of spinach because the kale looked a little sad.  I diced it all up with sundry other crunchy bits and put it in single serving containers but left enough room in the containers to throw in some protein.
Today I threw in a ½ can of white tuna and some klamatta olives.  The thing with the beet greens is that you have to take the time to rinse them well to get the sand off.  Otherwise it's not pleasant to chew.  But, my point is that these salads have no lettuce in them.  And they are awesome.
By the way you can also keep reading